What God says...

Come now, and let us reason together, saith the LORD: though your sins be as scarlet, they shall be as white as snow; though they be red like crimson, they shall be as wool. (Isa.1:18)

Come unto me, all ye that labour and are heavy laden, and I will give you rest. Take my yoke upon you, and learn of me; for I am meek and lowly in heart: and ye shall find rest unto your souls. For my yoke is easy, and my burden is light. (Mat 11:28-30)

If we say that we have no sin, we deceive ourselves, and the truth is not in us. If we confess our sins, he is faithful and just to forgive us our sins, and to cleanse us from all unrighteousness.(1 Jn.1:8-9)


About Missions...

"And Jesus came and spake unto them, saying, All power is given unto me in heaven and in earth.Go ye therefore, and teach all nations, baptizing them in the name of the Father, and of the Son, and of the Holy Ghost: Teaching them to observe all things whatsoever I have commanded you: and, lo, I am with you alway, even unto the end of the world. Amen." (Mat.28 18-20)

"And he said unto them, Go ye into all the world, and preach the gospel to every creature."(Mark 16:15)

"Say not ye, There are yet four months, and then cometh harvest? behold, I say unto you, Lift up your eyes, and look on the fields; for they are white already to harvest.(Jn.14:35

"But if our gospel be hid, it is hid to them that are lost: In whom the god of this world hath blinded the minds of them which believe not, lest the light of the glorious gospel of Christ, who is the image of God, should shine unto them (2 Cor.4:3-4)

"But ye shall receive power, after that the Holy Ghost is come upon you: and ye shall be witnesses unto me both in Jerusalem, and in all Judaea, and in Samaria, and unto the uttermost part of the earth." (Acts1:8)

"Also I heard the voice of the Lord, saying, Whom shall I send, and who will go for us? Then said I, Here am I; send me. 9 And he said, Go, and tell this people..." (Isa 6:8-9)

"And a vision appeared to Paul in the night; There stood a man of Macedonia, and prayed him, saying, Come over into Macedonia, and help us. And after he had seen the vision, immediately we endeavoured to go into Macedonia, assuredly gathering that the Lord had called us for to preach the gospel unto them." (Acts 16:9-10)

"Where there is no vision, the people perish..." (Prov.29:18)

Some of Our Teens Share
MARIA TERESITA D. SUMIQUIAB... I like this church because they make me feel special. The first time I came, I felt very welcome already. I started attending the youth group last 2005. What I like in the youth group is that they are fun to be with and I learned a lot of them. The San Marcelino Baptist Church has changed my life, it's really a blessing to be a member of this church.

GLENN JOHN ORTIZ... I have like this church because this is where I really learned who is God and I received Christ last November 2, 2008. One more thing that I like is the friends I have know helping me know God more.

EMELY R. DUQUE... The first time I came here in San Marcelino Baptist Church, I was so nervous and I really don't know what would happen.. but now I feel comfortable.. and I really like this church.. why? The first thing I notice was Pastor Mike and I like the way he preach.. it is burning my very soul.. and also the members.. they were approachable and kind.. and also the Sunday school. It helps us grow spiritually and our teacher was really anointed by God.. he really is a very good speaker and worker of God.. and now, I am growing more spiritual because of this church.

STEVE AMIEL JOSAFAT... I belong in the Youth Department last 2002. I like this youth group because Jesus is really working in this class and I like this church because of singing, testimony and Ptr. Mike high standard.

KATRINA D. TOMBOC....Last September 2008 I decided to join the youth group. I like our church because this is where I am happy. Each message of Pastor Mike Mislan is a blessing to me. Our youth leader also Bro. Alex is a good teacher. I accepted Christ last Dec. 5, 2006. And I'm also blessed of the teachings of Sis. Bessy while I was yet in the juniors class.

LAIREN D. TOMBOC... In the year 2006, God sent us in this church San Marcelino Baptist Church. This church became a great blessing in our family. I started from the junior department of Sis. Bessy who was our Sunday school teacher before. Then as years passed by, God blessed me and I started taking my Sunday school at the youth class. That was in the year of 2004. I really love this church because this church blessed us spiritually and financially. I love the fellowships, singings and preachings of Pastor Mike Mislan. Pastor Mike Mislan is also a big blessing for us. In the youth department, God also blessed us and that we are still continuing serving and praising Him. I thank God because He sent us in this youth department and in this church San Marcelino Baptist Church.

CHAREZ T. AMIGABLE... In the youth group we are all happy, helping each other, always laughing, always together, we are like real brothers and sisters. The church members also they're all kind, generous, fun to be with, I always forget my problem when I'm with them, they inspire me and give me good advices. Pastor Mike preach good messages, he makes me laugh, and he's very understanding and he's fun to be with.

From National Pastors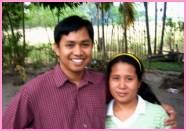 Pastor Mislan is supportive of local pastor's ministries here in Zambales. He is always willing to help and give advise to church problems of local churches and pastors. His counsels are biblically based and he does not compromise or tolerate members who are behaving outside of God's will. He has also provided financial support to students from other churches particularly helping them in their transportation expenses... My observations regarding the members of his church during their inter-church fellowship and sports activities, is that they are more disciplined. We see no compromising behavior in them and their church discipline and spiritual maturity were evident. Thus other churches give them their due respect and high regard. The ministry of Pastor Mislan has been a blessing to a lot of churches and local pastors here in Zambales. Our prayer is that the Lord will continually bless his ministry... Bro. Jun Macadangdang, Solid Rock Baptist Church, 4th st. Del Pilar, Castillejos , Zambales, Philippines....junmacadangdang@yahoo.com

Pastor Mike Mislan is a friend of mine. I personally meet him in San Marcelino Baptist Church which is located along the highway of San Marcelino Hospital where I and my schoolmates are studying on his FREE Bible Seminary. He is a dedicated and loving man whose heart is to win soul's for Christ, bring them into God's Kingdom, and to disciple them in order to bear them fruits, and to plant a church that many Filipino People might known a Savior. He also led his church to encouarge me with a surprise gift package. My message to Pastor Mike Mislan; for those who reading this.. he is a good man, A husband of one wife, a lover of the flock, a good husband and a good father to sis two sons.... Right now I am on my Second Year of my study in Pastoral Theology and am learning a lot of lessons and biblical principles from his FREE Bible Seminary. He is very very strict in terms of standards, teaching and discipline, because He wants us to meet the high standards and principles of the Bible. - Pastor Larry Dimaandal, Resident pastor, Christian Baptist Tabernacle,#0420 Guttires St. Calapacuan, Subic,Zambales, Philippines 2209, e-mail address: larry_dimaandal2001@yahoo.com, Contact number: +639-26247-4223

Thank you for your benevolence and sacrifice giving you give me for a financial support to solve my problems. Though I'm suffering with arthritis and gout, I write you this letter to express my heart-felt gratitude of what yo have done for me and of the members of our church in Subic, Zambales. Thank you for the Bible School you had founded in San Marcelino, Zambales that we had learned so many things concerning our God and Saviour. Thank you Pastor for teaching us the different ways and procedures how to deal with the lost. Lastly, we expect that your Bible Seminary in the Philippines shall continue, and we will be waiting for that, God bless you. -Rev. Damian Borbe, Pastor, Lighthouse Bible Baptist Church, Iwas, Subic

I was filled with joy upon receiving your letter of recommendation and with the love gift that you have extend to our ministry here.. Your letter flattered me. Truly it is the Lord's grace that enable us to be a vessel in the ministry. Words are not enough to express our sincere appreciation for your coming to our country being a missionary and for being a friend. Rest assured whatever help I can extend to you I am very much willing to be help. Again, thank you for your kindness. -Pastor in Olongapo City.

Missionary Mike has been a help to us at the Linusungan Baptist Church. He has befriended our last three pastors, preached from our pulpit, helped us with Sunday School materials and flannel graphs, led his church to help us finance our church ceiling, and is now helping us with needed advice to strengthen our church and to find a needed pastor. And when we asked him to help us conduct a Bible study when one of our members died, he mentioned that any fruit that came as a result, would not be his, but would be ours to disciple. We think he is an ethical missionary and are thankful that we have an American missionary who we can trust. -Pulpit Committee, Linusungan Baptist Church

We thank God in you and your family... We really are encouraged by your work and labor of love here in our country.. Your ministry of the SMBC is a marvelous work. Thank you for making the Filipinos true believers with a Christ centered heart and mind for missions. Your job is great. Thank you for the time you spent for us fellowshipping each other. Your are so kind to us missionaries. Thanks to your wife, she is so funny, a comedian. You and your church are a blessing for me, you are our encouragement. May God bless you more and your people. -Rev. Jun Medillo, Church Planter in Mongolia

Thank you very much for letting me come and present our ministry to your church. It sure was a blessing and encouragement to visit your church. I appreciate the spirit of your church members and your love for world missions. Thank you also for your generous love offering as well as the nice accommodations. We appreciate and thank you for your faithful prayers and sacrificial support. We love you and may the Lord bless you for the part you have in our work in Korea! Sincerely - Missionary Paclibar, Korea.

When I first came here to church plant, Missionary Mike Mislan welcomed me and led his church to start supporting me for the first three years. Since then he has helped me with an evangelistic campaign from the Ambassadors, has taught some of students in his seminary, has co-hosted our Inter-church Sports-Fests, and has helped us time to time through small projects, and with his friendship and advices. Even though my church is not far from his, Pastor Mike has never competed with me, but has encouraged me. Thank you Pastor Mike for being a good friend and co-laborer, an American Missionary I can trust. -Pastor Tagulao, Grace of God Baptist Church, Castillejos

Thank you so much for all your efforts for us, your love and concern for the Lord's work -a Pastor of Lighthouse Bible Baptist Church, San Filipe.

We really appreciate your prayer and financial support for us as well as your encouragements -Church Planter Javier XXXXX in a Restricted Access Nation.

Thank you for the help & efforts. I know you have made some sacrifices just to extend a hand to me a fellow laborer in the Lords vineyard, especially in the most trying time of my life and ministry when nobody seems to care and not even one among the fellow pastors in the Zambales came to offer their support. Thank you for the friendship you had shown me and the brotherly counsels, for I was indeed encouraged to continue doing the Lord's work - a Pastor friend in Olongapo City.

Praise the Lord for this privilege to visit your church.. We really appreciate your help and heartily concerns on our building goals. I am very grateful by your generosity in helping us with our building project needs.. Truly we compliment each other. Pastor Mike and SMBC, thank you again and God Bless You! Your partnership in our ministry encouraged us to do more in the Lord's work. -National Pastor and church planter Ric Deliquina, NT Bible Baptist Church, Dinalupihan, Bataan.

We want to thank you for the unceasing prayers you have shared with us during our two years and five months of deputation but especially during the time we waited for our visa. You've been so patient with us during those delayed departures. The kind words and the many tears you've shared with us in prayers as we waited encouraged us a lot. Thank You.. -Church planter, Jun Manuel in Bangladesh.

Mike Mislan was with us on our 27th Church Anniversary last March 25, 1984. He amazed me with the questions that he asked regarding the work in Cebu City and throughout the Philippines. I gleaned from talking with him of his love to reach the Filipino people with the gospel of our Lord Jesus Christ. I surely would be happy to see him fulfill his desire for the Lord in being able to minister to the people of my country. -Dr. ARMIE F. JESALVA, Pastor, Bible Baptist Church, Cebu City.

As pastor of the Agape Baptist Church, Olongapo, Philippines, I feel brother Mike will be a great asset to our evangelization efforts here. He has a deep burden which will carry him far in the Lord's work -National Pastor Lucio B. Martinez, JR., Agape Baptist Church, Olongapo City.

I would like to thank the Lord for using you to channel his blessing. You have been a part in the ministry that God entrusted upon us..Your church is been a blessing to us. I appreciate all your help. God bless you. -Rev. Sammy Mista, National church planter, Landmark Bible Baptist Mission/Church, Subic, Zambales.

Thank you for your faithfulness in your commitment, for faithfully laboring with us in the Lord, for faithfully partnering with us in the ministry. We appreciate so much the prayers and support. May God bless you! Church Planter Abcede Garcia to Bandung, Indonesia.

Missionary Mike Mislan has always been a friend who has encouraged me in the ministry. He visits my home, helps me with needed advices, and has helped my church by scheduling the Ambassadors for Christ to do an evangelistic campaign. Even though my church is in a neighboring barangay, he has never went after my members, but instead, is genuinely interested in helping me as a pastor. Thanks you for being a good friend, an American missionary I can trust. -National Pastor Bernard Ruelo, International Baptist Church, Nagbunga, San Marcelino.

What Our Readers Say
Thank you so much for adding me to your prayer letter distribution. I thoroughly enjoyed your June/July letter. It was packed with so many wonderful insights as you humbly shared how God was working in your life and ministry. In fact, my pastor and another man from our church will be traveling to the Philippines in September and I will make sure they read The Shocking Report in your letter to prepare them for some of the missionary cultural issues they will witness. Keep up the good work brother and I hope to meet you when you're on furlough.. Harvest Baptist Missions

I appreciate your stand on not seeking government accreditation for your seminary, Atty. Gerry T. Galacio, member of Baptist Bible Church, Sta. Mesa, Manila, and faculty member of the Asia Baptist Bible College.

We always appreciate your thankful spirit which jumps off the pages you have written...

We always look forward to reading your missionary letter because we know it reads like none other we receive. It is always interesting, candid, humorous, expressing gratitude, and informational...

I received your prayer letter today - EXCELLENT as usual! The only thing I don't like is the cliff hanger on the back (i.e. "continued next issue"). You have done an excellent job over the past two letters summarizing the issues and there is nothing that you have said that I disagree with. It is a complex issue. We want to help everyone so much but certainly don't want our help to turn into long term hurt. I am anxiously awaiting the next issue. I hope you are putting this into some sort of "book form." Your insights are truly outstanding and very valuable...

We received your April/May letter today and it's always exciting to see what the Lord is doing with the work in the Philippines. We would certainly be honored to have you stop by and speak to our congregation...

I enjoyed very much your last letter. I am reprinting most of it for our church to see what their investment in your ministry has resulted in. Hope it stimulates support. Pastor Jim Parrish, Bible Baptist Church, SC

We would love to receive your monthly missions letter and learn more of the good things happening at the San Marcelino Baptist Church, and in the area.. Would you consider coming to my church the next time you are on furlough in this neck of the woods?.. That would be GREAT!Pastor Alen Lickfeld, IN, USA

It's good to see that God is still working in the Philippines. Praise the Lord for His protection and provision. It would be OK for you to send the reports via email. I will look forward to hearing more of what God is doing in the life of your family and church, Pastor Tom Merrick, Cook's Prairie Baptist Church, Homer, MI

I got your letter in today's mail. I enjoyed reading about God's blessings on your ministry. If you want you can just send me your letter electronically. That will save some. I do remember you in prayer regularly. Preacher, Everett Cooper, Texas

We have supported you for several years, and we always look forward to receiving your prayer letters. We are so happy about the new internet capability there. We would be very happy to receive your prayer letters via email. We would print them off here and save you a lot in postage, paper, etc. You can send it directly to me, since I take care of our missionary support and prayer letters. Calvary Bible Baptist Church, Ohio.

Feel free to send your report letters to First Baptist Church of Milford, DE via email. Pastor Perdue.

We are always glad to get your new letters. We post them for the church family and pray for you often. Please put us in your e-mail file for future letters and save the postage etc. We are glad to get the newsletter by e-mail. Thanks for being there and your faithful service all of these years, Sincerely Rod Puckett, Avalon Hills Bible Church, VA.

Mike good to hear from you. I really enjoyed your last letter with the synopsis of your ministry activities over the years. Wow! I know you are very happy to be used is so many wonderful ways.I'll check out your info. Pastor Tim Gunter, Crown Point Baptist Church, FL

I am sending you my email so it will be easier for you to keep us informed of your ministry. We read all of your letters and pray for you and we also post all of them on our mission board so the church can keep current on your needs. We do appreciate your detailed and interesting ministry - Gilead Baptist, Allen Park, MI
Officers of Fil-Ams
I have been associated with the Filipino-American Association of Newport County for the past three administrations and have had the pleasure of working with Mike Mislan.. a staunch supporter of the Filipino people...I have shared with Mike his enthusiasm and love for the Filipino people, and his devotion to their spiritual needs.. and has on numerous occasions administered the blessings at our monthly family gatherings. He has an understanding of the pride and loyalty of the Filipino people that few Americans have taken the time to learn. In addition to his dedication he has a heart that is full of human sympathy and compassion. This altruistic young man will be a great credit as a Philippine Missionary, but a great loss to us, the Filipino Community of Rhode Island (Leticia Osmena, President)

In my two year stay in Newport, RI, I have considered it truly fortunate to have gotten very much acquainted with Mr. Michael J. Mislan. He has made an outstanding impression on us, saved Filipino Christian, as someone dedicated in the service of winning more souls to our Lord. He has demonstrated an excellent ability to establish rapport with people - Christians, non-Christians, and most especially, Filipinos. He was always around to help us in need through whatever spiritual and material resources he had, with an open heart and Christian love. (Cherry Diaz-Uyenco, Secretary).
Some Realities
It is our desire to focus in on fewer ministries throughout the world and support them with larger amounts of finances. To do this, we must cut back on the number of missionaries we support so that we can provide them with more financial support and more one on one encouragement. We sincerely desire to make an impact in the lives of our missionaries and the people they work with. As of March 1999, we will no longer support your ministry for which we are deeply sorry.

I really hate to send this type of letter to you when you just recently returned to the field, but the situation makes it necessary. We are having to make some financial adjustments here at XXX. This is the second round of cuts we have had to make in order to balance our budget. Unfortunately, we are going to have to reduce our monthly support. I am doing this through email because it is the fastest way to contact you.

It has been our privilege at XXX Baptist Church to be involved financially in your ministry for a number of years. We rejoice in the fruit that has come into the Kingdom of God through your ministry, and know that God has His hand on you. With regret, I must tell you that, due to strategic changes in our missions program, we have made a decision to discontinue our monthly support of your ministry. Please know that this move is no way an indication of our disapproval of your ministry.

It is with a heavy heart that we write to you of our intent to stop supporting you. We are concerned with the lack of evangelism and church planting in your ministry, and disappointed with your lack of enthusiasm for your ministry when you presented your work. (OUCH, THAT HURTS)

It is with sincere regret that we must inform you that due to this decrease in our weekly attendance and offerings, we must decrease your monthly mission support.

I am cutting off my relationship with you. I think you don't treat local pastors as your co-equal. (ouch again - a cell phone text from a national pastor friend who wronged me and prejudged me - sometimes it happens).

My heart is heavy as I must inform you of our inability to continue supporting your ministry.We have been unable to send any support to you for the last six months.

I am writing to cancel your meeting with the XXXX Baptist Church of XXXX. I have recently resigned my position as pastor and we will probably be unable to continue our support.

Our Pastor has resigned and attendance has fallen short. At this time it our duty to notify you now that we may have to decrease your support level.
Government Officials
Mayor Wilma Bilman
Castillejos Municipal
HONORABLE RECTO M. AMIGABLE, CHIEF COUNSELOR, MUNICIPALITY OF SAN MARCELINO... Since becoming a resident in the town of San Marcelino, Zambales, Missionary Mike Mislan has been a real help to our community. Not only has he successfully started the San Marcelino Baptist Church, of which I myself have personally enjoyed and attended, but he is also very much appreciated by the principal, faculty and students of the San Guillermo national High School where he volunteers his time as a Values Education teacher. Also, to have more of an impact on our community, since January of 1999, he has been a Lecturer with the Volunteer Chaplains service of the Philippine National Police. I would like to see the fulfillment of his worthy objectives.

SENATOR RICHARD J GORDON... I am happy to know you are coming back as a missionary. In this age of materialism I am sure a spiritual renaissance is what we need the most. Your missionary zeal will certainly be most welcome.

OFFICE OF THE CHAPLAIN, DEPT OF CORRECTIONS.... As a sworn in Peace Officer and Chaplain of the McCracken County Regional Jail, and as the Pastor of the Rickman Road Missionary Baptist Church, West Paducah, KY, not only have I led my congregation to financially assist Rev. Michael J. Mislan in his work in the Philippines, but I am sending you this letter now to attest to his character, ministry and benefit to your country. I am sure that his contributions as a Chaplain with the PNP, as the Pastor of the San Marcelino Baptist Church, and as a Values Education teacher at the San Guillermo National High School, will greatly benefit the people in his San Marcelino community. (Rev. Stan Durrett, Chaplain, Dept of Corrections, W. Peducah, KY).

PHILIPPINE NATIONAL POLICE INSPECTOR... Rev. Michael J. Mislan of the San Marcelino Baptist Church, San Marcelino, Zambales, Philippines, is conducting Values Orientation Seminars and Moral Recovery Programs at this office every Monday... Thank you pastor for your support and concern to all of us. Laurente Amog Acquit, Senior Police Inspector, OIC, San Marcelino Police Station.

BARANGAY CAPTAIN, SAN GUILLERMO, SAN MARCELINO, ZAMB... Rev. Michael J. Mislan, Pastor of the San Marcelino Baptist Church, and his wife Lenore, and their son Joshua are doing missionary work..and are a benefit to this community. (Daniel L. Fabunan)
A Few Others
ANOTHER AMERICAN MISSIONARY.... I worked as a Christian missionary in Olongapo City. During this time I came to know of a Mike Mislan through a Filipina girl I was sharing the gospel with. She showed me a letter Mike had written to her and her friends. In that letter, Mike had laid out the gospel in simple terms, using the four spiritual laws, and had taken the time to do it in Tagalog! I was so impressed with the content that I immediately wrote him. I let him know that this girl Tessie had surrendered her life to Christ... A short while later I received a long letter from Mike in which he shared with me his burden for the Filipino people. He also gave a half dozen names of people in Olongapo to follow up on, which I did. In later letters he shared with me some of his thoughts and observations about the Filipino people and methods of evangelizing them. His letter were always encouraging and beneficial.. I also had opportunity to read some of his letters to folks in town whom he was witnessing to. One in particular comes to mind. In that letter he demonstrated such a depth of love for the Filipino people, that I myself felt shamefully inadequate in comparison. I know Mike is a man of God who loves and desires to serve our Lord in the capacity of evangelizing the people he has come to love. I highly recommend him as a missionary to the people of the Philippines.. (Missionary Dave Davison, Olongapo City).

CHRISTIAN WORKER IN CEBU.... You know Brother Mike, at first I couldn't believe that you as an American would take the time to make friends with nobody like me. You almost amazed me by your attitude and I want to say you're different from foreigners I met. I'm glad that you've been able to adopt our culture. But sad to say, I know of some Baptist Missionaries who come to our country and treat the Filipino as if they are servants. They are not willing to accept our way of life. I think you are different from them.

LINDA DOWD..... Just thought I would write this little note to tell you that you are really a blessing to the church and to the young people. We can never say enough how much you are appreciated. I have so much to thank you for. You don't know how much of a blessing you have been to me in recent days when the whole world world seemed to be crashing down around me. First of all, thank you for wanting me to be a part of the Sunday School class, Last week when it finally hit me that it was my last week, I cried all through the song service. (How can anyone cry during "Wonderful Grace of Jesus?) Secondly, and most of all, thank you for our talk Friday night and for understanding. Maybe soon, with your prayers, I can find the peace I am so desperately looking for and life will be uncomplicated again. Just thought I would write a short note thanking you for all you have done. For your understanding in a certain matter that no one else would understand I especially thank you. Thank you for letting me be your assistant in Sunday School class. Thank you for getting the teens together to bring me flowers when I was sick. Thanks for taking me to the night of the adult fellowship. I am still practicing in how I can have a servant's heart..I still remember the spaghetti and meatball dinner long ago at which time I first met you. I have enjoyed knowing you and will miss you very much, so will all the teens, I will pray for you while you are in Philadelphia and hope all will be well with you there. Goodbye, Mike. I love you in Christ. Your good friend always, Linda Dowd"

JOHN ABIGNTION..... Words cannot express my sincere appreciation for the Christian love and concern you have shown to my niece, Ann Marie West. Not only have you gone out of your way to encourage her to clean up her life, stop her drinking and evening hours with men, but your groceries and financial help, not to mention a friendship that has shown her Christ has left me amaised and I know I would be remiss if I did not write you. All I can do is thank you for the help you have been to her and to invite you into my home whenever you come my way..
National Pastor Website Constructions
Good day Ptr.Mike upon receiving this simple thank you message of mine. Thank you very much. I see already the
website
you did for us. Its beautiful and a good one to read and see. Again thank you very much for your time and effort for doing it. God bless you and your family! - Pastor Jun of the Iba Bible Baptist Mission
Pastor, I saw the
website
you created..its very nice and good, thanks for your generosity, time and effort, Pastor Larry Dimmandal, Christian Baptist tabernacle, Subic, Zambales,
Column lengths will grow or shorten as I add testimonies so please forgive this uneven ending!
About our Son Jonathan...
PASTOR MONETTE IN QUEBEC CANADA....I have much appreciation and affection for your son who has been quite a blessing to our church when he was here. He even learned much of the French language while he was here. He is much gifted, and there is no doubt in my mind that he will do very good in the Lord's work because he has also a good heart. He continues to be a blessing to me every time I see him. You ought to be proud parents I'm sure...

GIBF MISSIONARY WAYNE SEAVOLT, CANADA...It is good to hear from you. We have talked with your son on many occasions but, never you. You son is very nice, well mannered, and mature. Pastor speaks very highly of you as do many in church.. Take care and God bless
Notes To My Wife
I want you to know that I am so glad I had the honor to become your friend. We love your family and will be praying for you often... I am so grateful that I got a chance to get to know you and your family. Your family is a true blessing... It has been such a joy and blessing to know you and your family. Thank you for all your encouragement and company... We're very happy to have gotten to know you. The Philippines are very blessed to have you and Mike. We so enjoy Mike's preaching. I have shared many of his mesages with my friends at work. You guys will be greatly missed but we will be thinking of you and praying for you. You are my inspiration! Thank you for all your words of envouragement and for speaking to us at MOPS. I will miss you greatly but I know God will use you and Mike on the Mission field... You have been and always will be a blessing to me..and make me feel special... You made me feal beautiful in a time in my life when I felt so ugly inside. I will never forget that. Your my best friend. I'm going to miss you so much...Your family has been a great blessing and I'm already looking forwad to the next time you are home. ..I love you so much you are an encouragement to me... Words cannot begin to say what is in my heary. From the second I met you I felt likr I had not only found a friend, but a sister also. There are speial people in this world that the Lord places in this world to offer joy and hope to people. You are truly one of these people..Thanks for all your love
and freindship..Your family has been such a blessing and such a great example for my children...I appreciate your faithfulness to the Lord in your service to Him by your husbands side...It was really wonderfull to have your family with us during your furlough. I'm going to miss your chants and your husband's preaching which is so refreshing, full of meat and application.

About Our Website...
Thanks Brother Mike..I found the web site refreshing and informative... I already visited your website (and) appreciate your stand.... All appears to be in line with my independent fundamental Baptist beliefs... Your site is definitely eligible for listing!.. I've looked over your existing site.. and have no problem with adding a link to your existing site to our web page!.. I took a quick look at your site. Nice! Hope to meet you in person sometime soon!.. I was able to click on the link you sent. It is a blessing to read about all the ministries God has allowed you to establish. My continued prayers are with you, especially for your financial support.
Freely Build & Publish your own Website.

Text to my Wife Lenore...
"Hi! I just want 2 say thnk u 4 being my teacher, and thnk u more 4 sharing ur tym as wel as urself. I reli apreciate ol ur kindnes & concern. God Bless. Luve U."

Some Church Members Speak
CHURCH SECRETARY & FAMILY....I would like to thank you for your love, patience and kindness to us. Though we have hurt your feelings many times you're still there ready to forgive. I saw in you the traits of a great leader and I praise God because you are our pastor. I would like to say that we love you and we will be missing you. If I could give you a gift, I would give you the ability to see yourself as I see you... so you would know what a wonderful pastor you are..I'm glad you are my pastor and friend.. For several years now you have proven to God and to the church your faithfulness, truthfulness, and dedication to your calling as the Pastor of SMBC. I believe in my heart that God sent you here in the Zambales to start a GENUINE CHURCH with godly standards, always upholding the Word of God and to exercise church discipline with no respect of persons. My family is thankful that God gave us such a wonderful and strict, but loving and caring pastor like you..We love you pastor.

SAME TO MY SENDING PASTOR...I am very grateful for sending Ptr. Mike and his family to be your missionary to the Philippines. I joined his church in 1997. Ever since I joined his church, he has been consistent in preaching the Truth. He is a very humble and caring pastor. He is always there when I need help, always ready to listen and quick to give godly advice. He is honest and upholds the Truth. He could smile in the midst of trials; he has the character and courage to church discipline erring brethren; he would not compromise the Truth, that is the reason why he is the best pastor I ever met! His wife Lenore is a genuine friend, loving, thoughtful, caring and also gives godly advice. She is my best friend. What more can I say but thank you Pastor Walker for sending your best missionary to SMBC. -Sister Ana Liza Verdejo.

DEACON PONSING....Thank you Pastor Jimmy Walker for sending the Mislan Family, here in the Philippines or in the SMBC as one of your great missionaries. We are so very grateful that we have an excellent, kind but strict, righteous and genuine Pastor. Maybe if he did not come here, I might or we might not have been saved.. so thank you so much. We enjoyed so much our membership here in SMBC we can say that we have a genuine church because he is a good shepherd to us. Thank you God and bless you Pastor Jimmy Walker. - Bro. Ponsing

BRO. EDWARD....Thank you very much that you have send Pastor Mislan and his family to our country as a missionary. They have been a big help to our church family especially to me. As a youth, Pastor Mike has preached and taught me to know God better and serve Him. If not for him and God, surely I'm one of youth of this world playing with sin and corrupting my body which I know is the Temple of the Holy Spirit. That is why I'm writing you, to thank you for your kind heart of sending Pastor Mislan to our country and may God bless you a thousand fold. - Bro. Edward

PASTOR JUN...I thank God ... that the Mislan family was able to come here in the Philippines to continue the work of God here in San Marcelino, Zambales. Your missionary or Pastor Mike and family is a great blessings to me personally and to my family. Because he trusted me to continue to pastor this church during their furlough. And being an assistant pastor I learn a lot of him to develop my character and to be more equip for the ministry. Ptr. Mike has a big vision for our church and ministries like Seminary to help other pastors, missionaries and church workers. For me its my honor to have a Pastor like him. To have a big heart for co-workers in Christ. And I pray that may the Lord continue to bless you more, your family and your church. Once again, a BIG THANK YOU. In Christs service, Pastor Jun Docuyanan and Sister Bessy.

High School Vales Education Students
Our Values Education teacher, Pastor Mike is very strict. I like the way he discipline us because we became a good followers to all his rules during his time. And also I like the way he make us laugh because of his funny jokes. All the things he teach us are very interesting and we can also get a moral lesson from it...

What I like about how Pastor Mike teach is when he was telling a story. He show us the emotion and action as if he is the character in the story. We can easily understand the story he was telling because he deliver it and act it with full emotion. I like also the way he discipline us because it help us to improve ourself. He is one of the teachers with a good sense of humor because he always make us laugh...

Pastor Mike gives a lot of advices that helped me in my life, my studies and attitude. Being strict in our class is one reason of my change. I became more disciplined and attentive. As a student and as a daughter I became more responsible because of the lessons he taught us....

I like Pastor Mike very much. He teaches us important lessons that we can apply in our living as individuals. I like the way he teaches us because he is funny. The lessons are not boring, instead entertaining. Discipline also prevail in our class if he is our teacher. We very much enjoy his teachings. Values Education is fun because of Pastor Mike. We became spiritually healthy because of his class...

He's a strict person, but I think he only do this to discipline us. He taught us to be a good person and most specially to be God-fearing. One more thing I like the way he deal with us. I like the way he talk in Tagalog. He makes me laugh on things and forget my problems...

Whenever Pastor Mike teaches us he makes me happy, he lessen my problems in my studies and at home also. The topic that he opened to us every Monday morning is important because his teaching advices us and lead us into a right path and it makes our relationship to our God become closer and closer...

Pastor Mike teaches us in not boring class. We learned so many lessons and great things from him. He is strict all the time. I'm so very thankful because God continues guiding and blessing Pastor Mike. I hope that not only this class but some more students like me, have a teacher like Pastor Mike...

Pastor Mike is one of the teachers who touched my life and brought advises and lessons which I really treasure even though I graduate from this institution. He's a nice guy, he really do gave good advises that would guide a student like me on the right path I'm going to take. He's so effective in teaching. Even if he is strict, I do learn from him. And I can say that, I do have better relationship with God and the people around me because of his lessons. And I thank him for all the lessons he had taught us...

He's a good example even though sometimes he's strict to us, still he is doing it to us to be a good youth. I will say that he is our second father, because walang sawa siyang nagbibigay ng advice sa amin. I like his nice jokes. Pastor is a good adviser because still he taught us to seek God...

Pastor Mike Mislan always chose the topic that were suited in our daily life, in or teenager life. He's more interesting than our Values Education teacher. I can't forget his preach about putting God first before anything. "Seek ye first the kingdom of God and His righteousness and all these things shall be added unto you...

Pastor Mike is very nice religious teacher. He is a good speaker and in return we are also a good listener for him. He is a good model for us. Even if he was strict, he shows only what is the meaning of discipline is. He is one way for letting ourselves to be closer to God by teaching some lessons. This lessons serve us to be a professional or to be successful someday. He teaches some pointers how to be successful. He is cheerful in teaching his lessons...

Pastor Mike is a good teacher. I like him being in his strict personality. It's because my classmates became attentive in listening at the class lessons and discussions. And he's not a boring teacher. Every time he enters the room he has many things injecting in the lessons that will make the discussion lively and gay so it's fun to be in his class. And most importantly is that he teaches us different things in life. About what would happen for the future and what had happen from the past. He teaches lessons that may help us in our everyday life. About being a successful in life I will never forget those things from him. Same thing with the funny joke he'd crack for us to make us cheerful in all his class. And that's why I'm thankful that we had given a chance to be his students even for a while..

Our Values Ed. Teacher, Pastor Mike, he is good in teaching us in how to make our life to be successful, he is also good in disciplinary thoughts. He is also a good joker to us, he make us happy, laugh, and giggle. He makes joke for us to be able to understand the lesson very well. He is also a good example to us, he teaches about good deeds, the bad effects of the vices! In over all, he is the one who will make or help us to be successful, maybe for others he is strict, but I, I appreciate it a lot. So I wanna thank you, Pastor Mike for teaching us for almost 2 years you mean to me a lot!

Talking about our Seminary...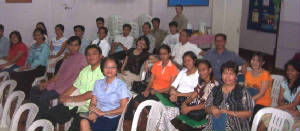 Myself and several of our members completed various courses at the SMBBS, and we also opened our church as an extension! I recommend this school for any serious student of the Word. - Rev. Dennis Linobo, Pastor, Landmark Bible Baptist Church, New Cabalon, Olongapo City

Right now I am on my Second Year of my study in Pastoral Theology and am learning a lot of lessons and biblical principles from his FREE Bible Seminary. He is very very strict in terms of standards, teaching and discipline, because He wants us to meet the high standards and principles of the Bible - Pastor Larry Dimaandal, Resident pastor, Christian Baptist Tabernacle, Subic.

Pastor Mike Mislan is my professor at San Marcelino Baptist Bible Seminary. I've known him for almost two years now since my first year at SMBBC seminary. I'm now in second year taking Pastoral Studies. Pastor Mislan maintains high standards of our seminary. He is strict in implementing the compliance of students to the academic requirements as well as to the rules and regulations of our seminary...Comparing our seminary with Bible institutes I have attended, Pastor Mislan is after the quality of students that the seminary produces. Thus we benefit a lot(spiritually) from our rigid training. He challenges us to always give our best in exams, lectures, research projects, and expositions. Meeting his high standard is an encouragement to us to remain faithful students. He inspired us with his teachings and insights during lectures. Thus we are proud to be a student of one of the best Bible school in Zambales... Bro. Jun Macadangdang, acting Pastor, Solid Rock Baptist Church, Castillejos.

Thanks to the SMBBS I was able to complete three modular courses, at just one night per week, which helped me in the ministry. - Bro. Alex Josafat, SMBC Youth Director, San Marcelino, Zambales.

I thank God for you and the school there in San Marcelino, serving as an instrument of God to help us improve our learning and practicing our desires to learn more and be a help to the church, the education we received does not only give us informative fact but develops in us a character of being responsible for the wisdom that we get from God's word, encouraging us to spent time studying His word, the school even offers subject that can reach Filipino's approach as our culture fed us with strange belief of spirits or strange creatures, also helps us to learn cooperation as we work on groups discussion and teach us discipline and trustworthiness as we do our home reports and examinations ..it's been a year of experiencing blessing from God's word and blessing from your toil to gather this education and share it to us... Thank you Pastor. Maria Fe, Lighthouse Bible Baptist Church, Subic

My wife and I took the One Year Bible in the Christian Worker program and the courses really helped us, expecially the "Cults" which I taught to my Sunday School class. - Bro. Edgar Morados, College and Career SS Teacher, Landmak BBC of New Cabalon, Olongapo City.

I graduated from a modular course and had several from my church graduate from their first year program. I think it's a good school. - Rev. Damian Borbe, Lighthouse Bible Baptist Church, Subic.

From Our Supporters
I personally visited him and the work God has ordained him to do in 1995 and 1999. His personal contribution and presence to the people of San Marcelino is essential in promoting and improving both spiritual and social growth. As an exemplary American Missionary, his Godly friendship, guidance and leadership has led him to accomplish the following: (1) He is the founder and pastor of the San Marcelino Baptist Church, Zambales, Philippines. (2) He chaplains 12-14 members of the Philippine National Police. (3) He teaches Values Education with the San Marcelino Public School District... As a personal friend in the ministry since early 1990, I have known him to be honest, sincere, reliable and loves the work as evidenced by his extended stay in the mission field and in the strong to.. continue what he has started.. (Pastor Jose N. Ramirez, Filipino Independent Baptist Church, Norfolk, VA).

Mike, you are an excellent missionary. Out of all the missionaries I have had the opportunity to visit on the field you are definitely the most balanced and busy about the work of the Lord. My wife, Steve, and Melissa would all say the same thing... Keep up the good work. SSBT Interim pastor, Chris Wass

Thanks Brother Mike..I found the web site refreshing and informative. I can see how God is using you and your family. We will be praying for you. pastor Jeff Jones, First Baptist Church, Boyne City, MI

We at Woodfin Baptist Church had the distinct pleasure to hear a most impressive presentation of the Philippines from Mike and Lenore Mislan. These precious people did a beautiful job as they sang of hope, love and joy both in the English and the native Language of the Philippine tongue and shared their testimony of a personal relationship with Jesus Christ our Lord. Their children complimented their ministry and were well behaved and attentive. It is our pleasure to share their burden for the lost in the Philippines and welcome them to our Mission family..

I want to express my appreciation to you for your many years of faithfulness to the Lord & His ministry. Thank you for your friendship and kindness to me and to our church over the years, and your example to our people has been an encouraging one. I know that you have faced some trials and difficulties while in the ministry, but I thank you for your faithfulness to the Lord (All Nations Baptist, NY).

Hello, I wanted to email you and say thanks for your presentation at our church last Sunday. Your message on Jordan was also greatly appreciated and spoke to my heart. Thanks again for your ministry and the great work you are doing in the Philippines! (Bible Baptist, NC)

Mike. I really enjoyed the fellowship. I am thrilled with response to your preaching! (Pastor Tim Gunter, Crown Point Baptist, FL)

You are the favorite of the missionaries that we support. Man, I wasn't aware that God had used you that much. You are one of His choice servants. We do pray for you and yours.(My good preacher friend, Everette Cooper, TX

Just want you to know that New Life Baptist Church in White Marsh, MD is praying for you, and will continue to support you financially..and that God will continue to give you fruit that remains...Thank you for being faithful to God's calling. Pastor Johnnie Brewer

About ten years ago when I was eight, you came to my church and left a strong enough impression on me that I began saving my bottles and cans to send a small check to you and your family to support your mission in the Philippines, Now that I am 18 and graduating from HS, I've been reflecting over the years of my life and thinking about people who really made a difference. I put together a memory book for one of my classes over the past year which includes a number of cards awards, and pictures and I realized just how many letters I received from you during that time I supported you and even after that. That is why I am sending you this letter with a gift that is coming from the money I received from my graduation party. The Lord has blessed me and in turn I have chosen to put a part of that toward missions and I thought that giving to you would be very appropriate considering the amount of time I have been thinking of you and your family. THANK YOU for recognizing me as another supporter in spite of my age and the small amount of money I have each month. By making me feel special, you taught me that every little bit helps and that making a difference in the world could be as simple as taking a minute to talk to someone or even taking a minute to pray for someone. Now as I embark on my own journey to Gordon College in the fall to major in social work and hopefully pursue my dream of working with children with cancer, I will remember the friendship I made with you and the impact it had on my life. I would love to keep in touch if it is possible because I love to hear all the things that the Lord is doing through you and your family. Once again, THANK YOU for the impact you made on my life. It was and is greatly appreciated. You're in my prayers, Joanna Jenkins.

Brother Mike, You probably don't remember me, and that's OK, but I used to pastor in Constantine, MI when you were on deputation back in the day! Anyway, I wanted to get in touch with you to let you know that I'm still praying for you and Lenore and the boot! (probably all grown up by now!). We would love to receive your monthly missions letter and learn more of the good things happening at the San Marcelino Baptist Church, and in the area. In my heart there is still a love for the Filipino people to come to Christ. Would you consider coming to my church the next time you are on furlough in this neck of the woods? Our annual missions conference is the last Wed - Sun in September each year. Maybe you could work it out to be in our conference in 2009. That would be GREAT! Brother, I don't know what, and I don't know why, but God has put you on my heart today. Is there anything I can pray with you about? Until I know better what to pray for I am praying for your safety, provision, encouragement, and an unction from the Holy Ghost to prepare for the revival. Semper Fi in Jesus! Alan Lickfeldt - John 8:36, Lighthouse Baptist Church, IN.

Korean Youth Speak
SUSAN KIM...I will never forget you two for your time spent with us. I have to admit that all the while you were here, it was the best Sunday's I've had. Thank you for caring and I hope all goes well with you. God bless you from my family and me...You just don't know how much we miss you and talk about wishing you both were back with us. We never had a better, more influencing teacher and I believe we'll never find anyone to replace better than you..... Nothing is like they used to be. Sometimes I just sit in my room and wish that we were all together again. The happy faces and the enthusiasm to learn about Him. It's just not what it was like before when you were our teacher.....We love you very much and you have a special place in our hearts, specially mine. Thank you for always being there.

YUNG JOU...You've been great to us. You've taught us invaluable things. Thanks again, luv always yung Jou.

CHUNG SOO LEE...I thank God that you came to our church and showed your love to us. I pray that God will guide your future and encourage and cherish your heart in your Christian walk.

SUNNY PARK...You've really helped me by being my friend and Sunday school teacher. It's so sudden since you told us you are leaving today, cause if you told me earlier we would have done something for you and I would have taken so hard cause I'm really gonna miss. I hope you and Lenore have better years to come cause you guys really deserve it. Well I guess I gotta go but just remember that I'll always remember you. You better write to me. I hope this doesn't sound too mushy.

Our First Converts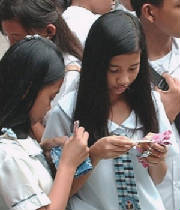 I received the Ilocano words and have done the things that you tell me so that Jesus can forgive my sins...and I want also to see my brother or be with my brother in heaven. I wish I could be with you brother in Cebu so that I can hear my Brother preach sermon...I eager to enjoy reading Bible...

Because of your help I am sure that I'm saved and can go to heaven. You explained about salvation and I liked your short story. I realized that I have to go to Christ. I admit myself a sinner and asked forgiveness from God. I know that Jesus died on the cross for all my sins. I really accept Lord as my savior and God, and I am sure Brother Mike that I am saved---the Bible says if anyone who calls Lord's name will be saved.

I am a Christian now, and I love God very much. Oh, I like the way you tell story of Jesus. Yea, That's really true that Jesus Christ died for our sins. Yes I did the four things that you ask. It is not enough to say you are sorry, but you must repent. When you come to our country again, can you make a sermon? I will be the number one who will listen to your sermon..

I never forget the times when you share with me how to go to heaven. I have already been baptized and won my first convert. I still remember when you take me to pastor Ben Abrera. I am still smiling. I have joy in serving the Lord. As one of the Sunday School teachers, I enjoy to teach the small children. Even though I have no higher education, I believe God uses ordinary people like me. Now I am just waiting what God wants me to do with my life. If He wants I will go anywhere. I still remember my life when I didn't yet surrender my life to God....I will never forget you and include you in my prayers.

What Repentive Hearts Write...
Pastor, its so hard for me to hide and keep it to myself so please allow me to say some lines just to let you know my feelings. Pastor, do you still remember the time we were together? That day we walked together, I wanted to cry in front of you and I also wanted to apologize and ask for your forgiveness for all the things I have done wrong. I am sorry I did not say anything, But now I have a chance to say what I feel to you through this letter. PASTOR, I AM SORRY, I want you to know that you were the best pastor I've ever had in my life. You treated me as your friend and more than that, you treated me as a brother. Let me say this "Pastor I LOVE YOU." I know it will be hard for me to forget you and your family cause you were the first person who taught me everything and the Truth from God's Word...but I'm sorry I did not follow you. I know you care for me and all you wanted is to protect me from any kind or form of harm. But despite of the care you've shown, I still smoke and drink. Again I am sorry that I did not follow you. Pastor please pray for me and for my family and expect me to be a better person in the near future even though I'm not your member any more. Lastly, I want you to know that I'm so grateful having you in my life. You will always be in my heart and always a part of my life. Thank you for your support, love and care you've shown my family. (This man died while I was on furlough)

Although I had come with auntie XXXX in transferring into another church, God knows that during that time all I wanted is to stay there and remain as a member of SMBC... I want to say I'm sorry for everything, I have not been a good Christian, have failed the Lord, myself and so many people. I have hurt many people and maybe thats the reason why I am experiencing the Lord's chastisement unto me, hardship & difficulties in my life right now. I know that going with a married man though separated is sin but still I went on it. Right now I'm pregnant bearing our child in the womb. I want to come ask the church after my delivery to ask if I can still be a part of that church despite all my sins.. I want to talk to someone but I can't find anyone. I am all alone. I lost many of my friends. Even Aunt XXXXX don't talk to me and Aunt XXXX seems to be looking at me as a very mortal sinner. Though it's true it still hurt me... Once again, thanks for everything and sorry for all the wrong things that I have done, hope you can forgive me. God bless and guide you always, Love & care XXXXX. (This teen was forced to leave our church by her disciplined aunt, became pregnant, and now works as a domestic helper to care for her son).

Dear Pastor and Sister Lenore, I thank my God for every remembrance of you Phil 1:3. First I want to thank you all for being so nice to me and my son. I can't help but cry when I think of all the good things you have done for both of us. And in spite that, I've been proud, selfish, and think only of myself when all you did is be there to guide us and remind me how you care and how God loved me. Now I believe that what you said Pastor is true, that the laughter and happy face is just to cover up the pain and the heartache inside me. I'm lonely and hurt sister Lenore but nobody knows about it except you and pastor. But I just can't tell anyone about it. But what I'm gonna do? I'm already used to it, and as you said Pastor, I ain't let God to work and solved my problem. I do it my way. Please pray for me that like you and the rest, I can also find the peace of mind I need and be happy in the future. How I wish that I can be like the others and you. Now that your going back home for a vacation (our furlough), I will pray to God to guide you, give you strength and good health you need. I hope you can forgive and still be there always for me and XXXX. Pastor, Sister Lenore, I love you both so much. It is true what XXXXXX told me that you can't tell the importance of a person unless he go away. Maybe someday I can show you that I can really change for the better. Thank you. Sorry for being such a pain in the XXX. I'm gonna miss the advice and all the good things you taught me Pastor, sister Lenore. Thank you, thank you very much for being so nice to a person who think only of herself. But with your prayers I can be a better person you'll be proud of. Please forgive me for everything I have done wrong in my part. Forgive me for hurting your feelings. Pray for me and my son. Thank you for being so nice to XXXX. Can I write you sister Lenore? (This repentance did not last and she remains out of any church).
Some Cell Phone texts received...
U, & yur family hav ben so nice 2 me, my church, 2 my ptr & my family. It's just an appreciation.. I tank God dat He bring u 2 r church 2 teach us da rite way U R a gift frm God.. TY 4 helping my dad w a hearing aid ..U big blessg 2 me & minsry here. Tank u Pastr. Ptr.TY Po! I told already da chrch the gud news! It really a big help 2 dem. A million tanks 2 u, 2 yur church & family, Gud AM I appreciated da message u giv. our people wer blessed TY n God Bless. Dear Mike . . Gud PM Pastor Mike. I just want to tell you how I'm really blessed in every lesson . I see your dedication and I truly appreciate that. May the Lord bless your family & protect all of you always.. . Thanks for the time pastor I'm grateful it's the best time and conversation I had in 22 years. I usually don't open up to people and today I kinda feel lighter. Tnx