ARCHIVED PHOTOS
Why not check out our other photos . . .
Originally this page was for recent photos. But as I kept adding and adding I came kind of close to the limit. So I decided to create other photo sites where I can keep you refreshed with new photos without exceeding storage limits.
CLICK HERE
, to visit my most recent and best photo site!
CLICK HERE

for my even newer albums at FRIENDSTER!
God gave us a good Seminary Graduation!
OUR RECENT SEMINARY GRADUATION... Thanks to your prayers, and the hard work of our church members who cleaned, painted, weeded, cooked, washed, scrubbed, practiced, sang, served, and cleaned some more; we enjoyed a very smooth-running graduation with twenty-nine receiving diplomas, certifications and awards. A Third Year Pastoral Theology graduate preached, our seminary and church choir sang, with me also giving the charge to the students. After the formailties, we relocated to our recently renovated (and completed) pavillion for the meals and fellowship, which now being larger, easily accomodated the pleased crowd.
May Movie Month
Sunday Evenings, May of 2009

Our May Movie Month was a series of Christian Tagalog Videos we had shown in our church. Almost seventy teens came from three other churches who were challenged with an evangelistic appeal from Brother Edward and Bro Alex. Since this is still on-going, we'll be reporting the results as it closes out.
Family Camp Photos
April 8th-12th, 2009

130 Challenged at Camp.

Our Son Joshua playing the violin.

Sister Bessie teaching the children
Joshua's HS Commencement
Joshua received five awards during his HS Awardings.

Joshua was set back in school due to his hyper-thyroidism which caused an inability to concentrate and lack of motivation. But after it's removal through surgery (Chemotherapy wasn't enough),we saw him being recognized as the most improved student, with A and B honor roles, and two other awards. Please pray for Joshua. He MUST graduate before we can take our furlough and we are hoping to see this happen next school year.
Other Photos


PASTORS AT OUR SEMINARY GRADUATION

Pastors not only take courses in our school, but also send us their students. Without the trust of these area pastors, our school simply would not exist. Thank you Pastors!

Bro. Edgar, a Third Year Pastoral Theology Graduate, also organized and conducted our Seminary Choir - and did an excellent job. Thanks Bro. Edgar for all your help.

OUR SATURDAY CHILDRENS OUTREACH


SAN MARCELINO BAPTIST CHURCH



OUR SMBC YOUTH GROUP



VISTORS FROM OUR CHILDRENS OUTREACHES



VISITING MERCHANT MARINE CADETS

THE KEY TO MY SUCCESS
OUR SATURDAY COMMUNITY OUTREACH TEAM

OUR BLUE-NAPED PARROT, "Lovely"



JOSH MADE THIS ONE

My son Jonathan preaching at the


San Guillermo National High School



PASTORAL THEOLOGY GRADUATE, PREACHING



SEMINARY CHOIR

MY HS STUDENTS MARCHING IN OUR


TOWN FIESTA (FEB 22 2009)

HOW WE TREAT OUR SUPPORTERS!



TEEN SERVING AT OUR GRADUATION BANQUET



THE AMBASSADORS AT A HIGH SCHOOL IN IBA
Other Photo Albums
Pastor Tagulao, Grace of God Baptist Church, Castillejos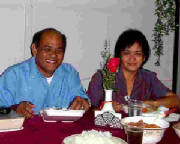 "When I first came here to church plant, Missionary Mike Mislan welcomed me and led his church to start supporting me for the first three years. Since then he has helped me with an evangelistic campaign from the Ambassadors, has taught some of students in his seminary, has co-hosted our Inter-church Sports-Fests, and has helped us time to time through small projects, and with his friendship and advices. Even though my church is not far from his, Pastor Mike has never competed with me, but has encouraged me. Thank you Pastor Mike for being a good friend and co-laborer, an American Missionary I can trust."
PRAY FOR THE MISLAN FAMILY IN THE PHILIPPINES
| | |
| --- | --- |
| | By clicking the left link and typing your topic in my search box, links to all my pages and entries that contain your topic will appear! |
| | | |
| --- | --- | --- |
| About Our Advertisers | While Tripod's Google advertisements, banners, and pop-ups, enable us to enjoy this free website construction and publishing, for which I am thankful, I did not personally endorse them and some may not necessarily reflect our doctrines, ethics, positions or philosophy in ministry. | |