Welcome to our Neighborhood
Missionary-Pastor Mike Mislan
San Marcelino Baptist Church and Seminary
National Highway, Brgy. San Guillermo
San Marcelino, Zambales, 2207 Philippines
Cell Phone: 0916-515-1562
space holder
The

Philippines

is a

hot humid nation

in Southeast Asia, consisting of 7,107 islands of which 2,000 are inhabited by over 90 million people, with 85% being

Catholic

. We live on the northern and larger island Luzon, in the Province of the

Zambales

, in the small 23,000 resident

town of San Marcelino

, and in the baragay of San Guillermo, where

Tagalog

, English, Ilocano and a little Zambal are spoken. We have no traffic light, McDonald's, shopping mall, or major department stores, and must drive three towns away to do most of our shopping.

Our house in right on our church property on National Road, our water comes from the wells we dug, we cook with bottled gas, most of our trash is either buried or burned, we dug our own septic tanks, we can get on line with a LAN antennae on our roof, use cell phones, but have frequent power outages. Our home is comfortable but modest, with hot water in our shower (we have no tub), an AC in our bedroom, and most of our neighbors are nice. Welcome to our neighborhood.

Our church developing our new lot.
Everyone helps during our church work days. More Photos


My son Joshua working


Driving defensively!

That's my car behind the real "King of the Road."

How We Laid Things Out.

Our Property Layout

And this is how we developed our lot. First we purchased one lot (where our church is), and then we were able to purchase the abutting lot, which really gave us the room we need. My family lives in the church parsonage, we have a man in training who is living in the separate apartment in the nursery building, and our church offices doubles as a PC land and library for our seminary.

We are currently in a building program extending our pavilion and adding a large kitchen to our nursery building to so can have more room for our church fellowships.
Pastor Clayton Moorman, Newark Baptist Church, Elkton, MD 21921...Thanks for being our missionaries. I think you do a great job, in fact, an exceptional job with the resources that you have. Together in the Harvest.
My Pet Parrots
| | |
| --- | --- |
| I also keep small parrots as a hobby to relax and there are several parrots that are indigenous here. Love birds for example, are easily bred here as are many others.We also have papaya, banana, calamansi, jack-fruit, pineapple, mango, and kasio fruits on our property, and throughout our stay, we had goats, big and small lizards, a water caribou, snakes, cats, rats, bats, mice, spiders, dogs, chickens, ducks, and of course real people! And during the rainy season in our rain ditch in front of our property, we have found guppies, carp (silver gold fish), catfish, crabs, crayfish, snails, three-spot gouramies, and telapia! We also have seen wild small Vernal Hanging parrots, and love birds and parakeets that others must have lost that have been attracted by our pet birds. And in our house? Well snakes, rats, mice, lizards, big hairy spiders, cockroaches, termites, mosquitoes, and sometimes things we hear in the night but can't see! | |

Shopping can be done in our market place (above),
or in Olongapo City which is only an hour south of us.



Our Church Facilities are on the Main Road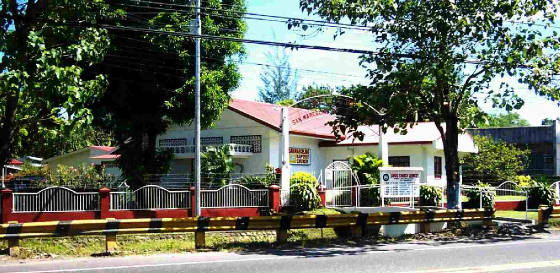 Since we are on the main highway, it is easy to reach us by Victory liner (bus) either from Manila or Olongapo City. Just get an a bus going North to Iba as they all must pass right by our place on their trip. If you ask to get off at the San Marcelino District Hospital, you will be dropped of right in from of us. The hospital will be across the street on your left, and we will be right next to you. Here's how we look from the main highway.
"I was looking at your website again – I am really impressed. It's amazing what you did without spending any money – you really are a good steward of God's money." -Missionary Keven Shehan, Jordan
Holy Week
While the Philippines is predominantly Catholic, an interesting feature in our area is the back beatings and once in a while, a single crucifixion that takes place every Holy Week in our neighboring town of Castillejos. I have seen up to 30 at a time, march to various shrines, beating their backs bloody red in an effort to have the judgment scales tipped in their favor.

Tour our Ministries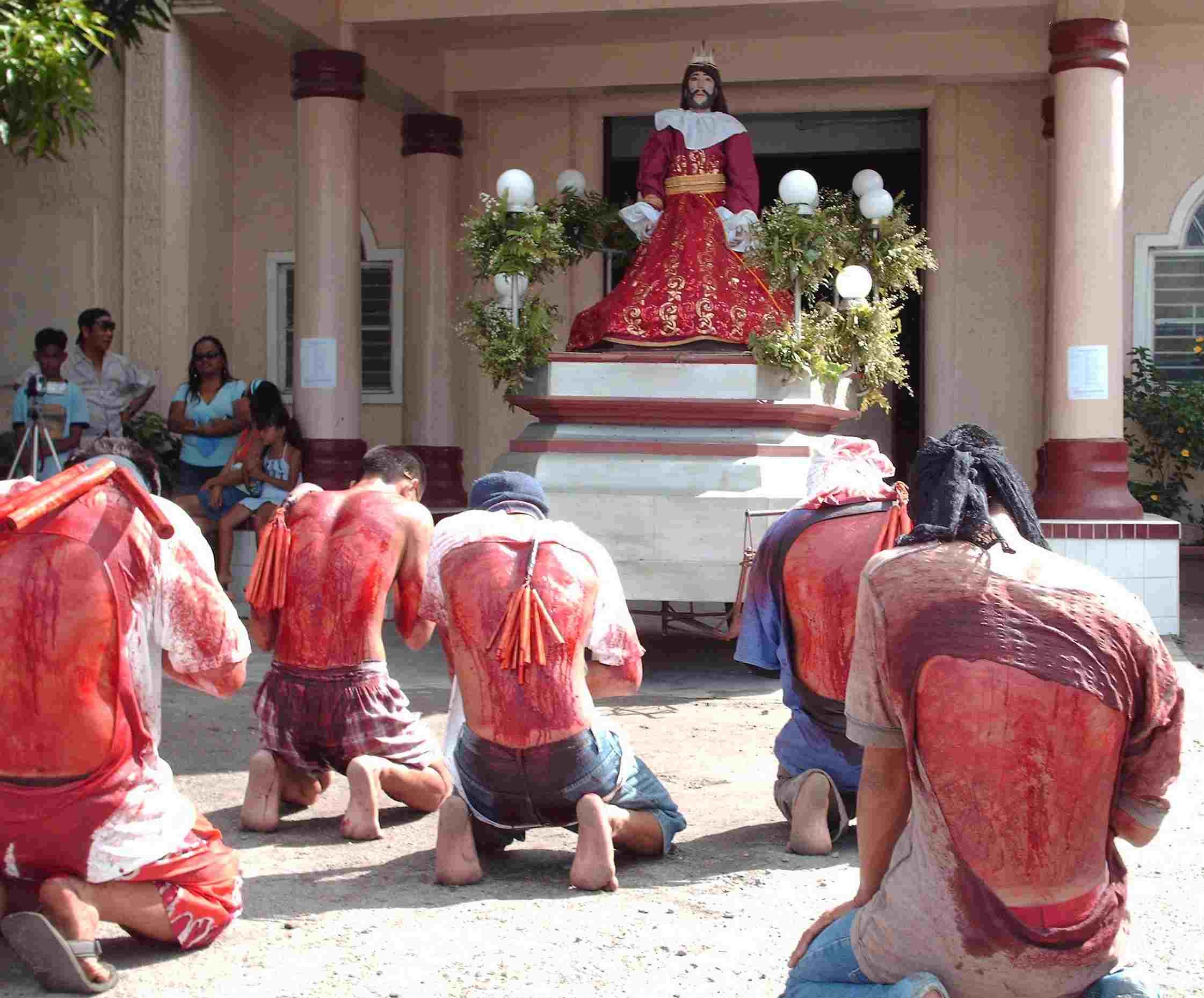 I took the above photos only five minutes away from where we live! The one below is of the Black Nazarene procession in Manila, where thousands will try to touch the statue, or have their scarves touch and returned in order to receive a healing or blessing. Photo was obtained from International News Sources.
PRAY FOR THE MISLAN FAMILY IN THE PHILIPPINES
Pulpit Committee, Linusungan Baptist Church
Linusungan, San Marcelino
Missionary Mike has been a help to us at the Linusungan Baptist Church. He has befriended our last three pastors, preached from our pulpit, helped us with Sunday School materials and flannel graphs, led his church to help us finance our church ceiling, and is now helping us with needed advice to strengthen our church and to find a needed pastor. And when we asked him to help us conduct a Bible study when one of our members died, he mentioned that any fruit that came as a result, would not be his, but would be ours to disciple. We think he is an ethical missionary and are thankful that we have an American missionary who we can trust.
READ MORE
| | | |
| --- | --- | --- |
| | | |
OUR SENDING CHURCH

South Side Baptist Tabernacle
6710 Textile Road, Ypsilanti, MI 48197
Bro. Chris Wass, Temp Interim Pastor
www.ssbtonline.org

OUR FIELD ADDRESS

San Marcelino Baptist Church and Seminary
National Road, Barangay San Guillermo
San Marcelino, Zambales 2207
Republic of the Philippines
International Phone: 011-13-916-515-1562
Local Phone/text: 0916-515-1562
E-mail: genuine.missions@yahoo.com

OUR MISSIONS OFFICE

Baptist Bible Fellowship Missions
PO Box 191
Springfield, MO 65801
http://www.bbfimissions.com/